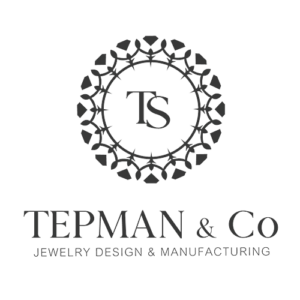 Hello! And welcome to our Terms and Conditions of Use.
Please read these Terms and Conditions carefully before using our service.
General.
Thanks for choosing TEPMAN & CO JEWELRY CASTING AND MANUFACTURING ("Tepman&Co", "we", "us", "our" "our service"). By using Our Service, including by purchasing or receiving Promo Codes or Special Offers, you are entering into a bindind contract with us. Your agreement with us includes these Terms and Conditions of Use and our Privacy Policy. If you don't agree with these Terms, please don't use Our Service.
In order to use Tepman&Co, you should be 18 years old or above, to be conscious of signing a binding contract with us and are not barred from doing so under any applicable laws. You also warrant that any registration information that you submit to Tepman&Co is true, accurate and complete, and you agree to keep it that way at all times.
Changes.
We may modify The Terms & Conditions and Agreements  at any time and  we recommended that it reviewed by the user on a regular basis. The date at the beginning of these Terms refers to the latest update of these Terms, which will be applicable from the date of publication.
Tepman&Co may, at any moment, and without incurring in any responsibility towards the user modify the content , limit or modify the conditions or cease to provide some or all the Services and features available or deactivate and delete all or some of the User accounts and their corresponding information.
Also we can make changes at the Agreements from by updating this page. You should check this page from time to time to ensure that you are happy with any changes.
Our Products and Services. 
Tepman&Co provides to you standard 3D jewelry models, custom 3D jewelry models, custom jewelry design, wax model printing, rubber mold production, jewelry finding production, full circle jewelry manufacturing.
IMPORTANT: NOTE THAT OUR STL. FILES ARE NOT DEDICATED FOR RUBBER MOLD PRODUCTION, DUE TO THE MOLD SHRINKAGE.  If you want to order a rubber mold – ask for this option.
Authorised use of Services.
You are only authorized to use the Tepman&Co Services in accordance with the Terms and in good faith.
You agree not to use the Services negligently, for fraudulent purposes or in an unlawful manner. Likewise, you agree not to partake in any conduct or action that could damage the image, interests or rights of Tepman&Co or third parties, particularly, the owners of the content.
Purchase.
You can place an order by adding the products to the shopping cart. Your purchase will be accepted for processing only after your making a payment (or prepayment in the case of customization). You will be notified of the availability of your order at your profile.
Terms.
If you order standard 3D Model you get files available for download in your profile area after your payment confirmation.
Usually it takes 1-3 business days to prepare your file(s) for download if you order custom models and 3-7 business days for finding and forwarding to delivery department.
General.
Thanks for choosing Tepman &Co. To provide you with Our Products and Service we need to collect some information about you, and this Privacy Policy is where we describe the information we collect, what we do with it, and how you can manage and control the use of your information. By using or interacting with Our Service, you are entering into a binding contract with us and consenting to the use of your information as explained in this Privacy Policy. If you don't agree with these Terms, then please don't use Our Service.
Registration data.
When you sign up for Our Service, we may collect information we ask you for, like your username, password, e-mail address, date of birth, gender, postal code, and country. We may also collect information you voluntarily add to your profile, such as your mobile phone number and mobile service provider.
Usage, log data & cookies.
When you use Our Service, we automatically collect certain information, including: (i) information about your type of subscription and your interactions with Our Service, technical data, which may include the URL you are coming from, your IP address, unique device ID, network and computer performance, browser type, language, identifying and location information.
Payment data.
When you make purchases through the Our Service, your credit card information and other financial data that we need to process your payment are collected and stored by third party payment processors. We may collect some limited information, such as your postal code, mobile number and details of your transaction history. In addition, the third party payment processors generally provide us with some limited information related to you, such as a unique token that enables you to make additional purchases using the information they've stored, and your card's type, expiration date, and last four digits. If you choose to pay by invoice, Spotify may need to collect and transfer additional information, like your name, date of birth and phone number, to our invoicing service provider to enable credit checks and send you invoices. The use of your data by our invoicing service provider is subject to its privacy policies.
Licence.
All purchased products on Tepman&Co you can use for personal and commercial purposes – unlimited licence.
Contact Us
If you have any questions about these Terms, please contact us.
No Refunds for 3D Models files.
We do not accept returns or exchanges 3D Models unless the files you purchased is defective. If you
receive a defective liles, please contact us with details of the product and the defect. We won't issue any refunds on purchased files & products, we will fix them at no extra cost if needed.